Obituary for Winfred Allen
Clyde Winfred Allen was born February 12, 1921 in LeFlore County close to Poteau, OK to Andy and Gertrude Burton Allen. He was born fourth of six children: Euda, Clara, Arden, Winfred, A.J. and Merle Gene. He passed from this life on September 21, 2020 in Mangum, OK.

In the Fall of 1928 the Allen's began their journey down Number 9 Highway working their way towards Tucson, Arizona where other family members had already moved. As evening approached, Andy and Gertrude stopped at the store at Reed, OK to buy groceries for supper. Inside the store, Andy met a gentleman named Tom Clark who offered this young family a house to move into and a job pulling cotton. The Allen family took him up on his offer and moved into a house which sat on the same foundation that years later became the Winfred Allen Farm. This hard working share-cropping family lived in the Reed, Jay Buckle and Willow communities for the next ninety plus years.

Winfred enjoyed the simple country life and could identify with Delwin singing John Denver's lyric "sometimes this old farm feels like a long lost friend." He loved his rock hill and this is where he brought his bride, June Adams Allen, on June 29, 1940. Win loved breakfast and this may have prompted him to order 200 white laying hens from Missouri. They arrived at the farm through the mail. In their marriage, they milked cows, gathered eggs, played music, went to the field and did everything together for the next seventy-four years.

In 1945, Windred received his letter stating he was to serve in the military during WWII. He had to sell his tractor, equipment, milk cows and laying hens to report for service. After he arrived at San Diego, California he was asked to report to a special office. The gentleman said, "Mr. Allen, we have made a big mistake. We didn't realize you were a farmer and you are supposed to be home helping feed the troops overseas. You can go home if you choose." Win explained he had sold everything; he came to stay and serve his country. He spent the next year serving in the United States Navy and was on board the LST588 which was a landing ship tank carrying personnel and cargo.

Winfred was an intelligent and well-respected leader in his family, church and community. He was a deacon at the Sulphur Missionary Baptist Church for 52 years, led singing and served as moderator for conferences. He served in the CCC (Civilian Conservation Corps) in 1938. He was a Mason from 1949-1999. He was employed several years for Harmon County and worked closely with the County Commissioner. He was the Reed Gin Manager several years and served on the Oklahoma Cotton Producers Board of Trustees. When asked several years ago what he would want people to remember about him, he said, "I guess that I was a pretty good cotton farmer." Most of all, he was a loving husband and father who was unselfish and always had time for his family.

Preceded in death by his parents, two sisters, two brothers and wife, June, Winfred is survived by his brother, Merle Gene Allen of Ft. Worth, TX and his three children: Judy DeAnn Allen Jenkins and husband, Bob, of Granite, OK, Dr. Delwin Don Allen and wife, Patsy, of Friona, TX, and Kathy Jane Allen Haley and husband, Guy, of Granite, OK. His grandchildren are Carl Jenkins and wife, Mandy, of Lumberton, MS, Ellen Jenkins Marquardt and husband, Matt, of Mustang, OK, Jesse Allen of Amarillo, Tx, Alice Allen Doyle and husband, Aaron, of Amarillo, TX, Emily Allen Stowers and husband, Andrew, of Amarillo, Tx, Jordan Allen Morgan and wife, Coryne, of Edmond, OK and Caitlyn Haley Knotts and husband, Alex, of Weirton, WV. Winfred has eleven great grandchildren: Taylor, Austin, Cameron, Jaxxn, Rylee, Mitchell, Layla, Colt, June, Jenni and Clare. Win had a positive and lasting impression on many nieces, nephews, relatives and close friends.

In lieu of flowers, please make donations to Abundant Life Baptist Church or the Reed Cemetery.
Read More
To send flowers in memory of Winfred Allen, visit the Tribute Store.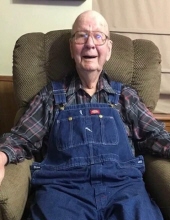 Thank you for sharing your
memory of Winfred
Provide comfort for the family by sending flowers or planting a tree in memory of Winfred Allen.
No thanks, please don't show me this again.