Obituary for William Burchett
William David Burchett, Altus resident, formerly of Bardstown, Kentucky, passed away on June 15, 2022, at his home surrounded by his family. He was 76 years old at the time of his passing.

William was born on January 26, 1946, in Russell Springs, KY to Buford Russell Burchett and Delphia Myrtle Burchett (Wilson). He grew up in Russell Springs and graduated high school. In 1965, William joined the United States Air Force and dedicated twenty years of honored service to his country. He married Aleida Arzola on July 26, 2001, in Vernon, Texas. They spent more than twenty blessed years together until William's passing. During his career, William worked as an USAF mechanic. He enjoyed traveling and spending time with his family.

William was preceded in death by his parents; his sister, Nancy Dossett; and his brother, Roger Burchett.

Left to cherish the warmth of his loving memory are his wife, Aleida Burchett of the home; his son: Richard Jedediah Burchett; his daughters: Jacqueline Michelle Burchett and Danielle Burchett; his step-son Henry Alexander Cubillos; his two step-daughters: Judy Hetzeler Cubillos and Candice Eileen Cubillos; his sister: Melody Burchett-Barbieri; his favorite nephew, Todd Dossett; as well as other relatives, nephews and nieces, neighbors and friends.

"Sitting next to David, watching his breathing and thinking of all the things we did in our time together, I am reminding myself of your blessings of being my husband and best friend.

I'm also imagining a future on earth when you will be resurrected and enjoy the new earth with all the blessings from Jehovah through Jesus Messianic Kingdom.

You were my business partner in our small remodeling of old houses. Sometimes we laughed, and many times we didn't know what we were getting into! There were challenges that we overcome together because we knew we could work it out. I am saddened that you left so fast and I am hopeful that you will be there in paradise earth in the future.

I really want to hold on to you, my husband and friend. I will have comfort from Jehovah (2 Corinthians 1:2-4). I am looking forward to a future where there's hope and a promise as Revelation, Chapter 21 verse 4 says:
". . . And God will wipe out every tear from their eyes, and death will be no more, neither will mourning nor outcry nor pain be anymore. The former things have passed away."

I will see you again, David!
Aleida Burchett, his wife of 21 years

Life Without End​—At Last!
(John 3:16)
Can you see with your mind's eye,
Peoples dwelling together?
Sorrow has passed.
Peace at last!
Life without tears or pain.

Sing out with joy of heart!
You too can have a part.
Live for the day when you'll say,

"Life without end, at last!"
In those days all will be young,

All at peace with Jehovah.
Troubles are gone, from now on,
No need to weep or fear.

Sing out with joy of heart!
You too can have a part.
Live for the day when you'll say,
"Life without end, at last!".
Paradise all will enjoy
As we sing of God's glory.
Long as we live, we will give
Honor and praise to God.

Sing out with joy of heart!
You too can have a part.
Live for the day when you'll say,
"Life without end, at last!"

(See also Job 33:25; Ps. 72:7; Rev. 21:4.)

A memorial visitation will be from 5:00 p.m. - 7:00 p.m. at Lowell - Tims Funeral Home, Altus, Oklahoma.

Services have been entrusted to Lowell - Tims Funeral Home and Crematory, Altus, Oklahoma.

To send flowers or plant a tree in memory of William Burchett, visit the Tribute Store.
Previous Events
Visitation
Lowell Tims Funeral Home & Crematory
1100 E Tamarack Rd
Altus, OK 73521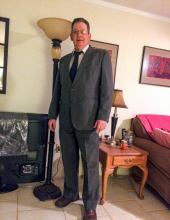 Thank you for sharing your
memory of William
Provide comfort for the family by sending flowers or planting a tree in memory of William Burchett.
No thanks, please don't show me this again.