Obituary for Larry Eugene Parsons
Larry Parsons, age 79, resident of Olustee, Oklahoma passed away Sunday, February 19, 2023 at his home.

Larry E. Parsons was the eighth of nine children born to Arthur E. (Poss) and Myrtle N. (Scoots)
Parsons on October 28, 1943. He and his siblings were delivered by Dr. Poer between 1923 and
1945 in their respective homes located around Granite, Oklahoma.
He accepted Jesus as his Savior and was baptized in the late 1950s in the old First Baptist
Church in Mangum, before it was torn down and the new church was constructed.
He started school at Brinkman and later graduated from City View High School in the class of
1961. He married Tavia J. Fletcher in 1962. They moved to West Texas living in Lubbock and
later in Midland, Texas where he was a master carpet layer. During his time in Texas, Carrie
was born in Lubbock and Chris, exactly four years later to the day, was born in Midland.
He was given an opportunity to come back to Mangum where he worked for his father-in-law
at the Mangum Steam Laundry. Sometime later he switched jobs and began working at the
Greer County Lumber Company as the Assistant Manager. He accepted a position offered to
join Division 5, Greer County Crew, of the Oklahoma Department of Transportation (ODOT)
During this time, he and Tavia were Mom and Pop to the Mangum High School Class of 1975.
This was a forever life joy for him. He was always so proud of his 75' kids.
Larry excelled at many things, but he was the best at teaching others whether it was learning to
ski behind his Glastron boat, drive a vehicle, or repair anything. Many of the 1980s classmates
of his kids credit him with learning to drive, camping out, and water ski.
In 1980, he met Kay Morgan Staton, and they joined their families to become one. During this
time, many summers were spent at different lakes, camping, skiing, cooking out, smoking
briskets, motorcycle riding and enjoying the outdoors.
Larry transferred to ODOT Division Three working with the I-40 crew in 1988 maintaining the
corridor from the Oklahoma County line to the Okmulgee County Line. After a few years, he
was named Supervisor responsible for Pottawatomie, Seminole, and Okfuskee counties and the
320 miles of roads, bridges, exit ramps, right of ways, and two rest areas.
Always an old cotton boll puller and farm boy from an early age, he bought 80 acres of land in
Seminole County and set up a small cow-calf operation known as Tiger Creek Cattle Company.
He retired from Oklahoma Department of Transportation after 25 years. Then he was offered
a part time job with Oakridge Home in Wewoka. He was a vocational instructor of a rag
business where the clients at Oakridge worked on cutting and selling rags as a vocational
enterprise to businesses in Eastern Oklahoma. This quickly became a full-time job that he
loved. He enjoyed working with clients and staff to help the residents accomplish their goals.

After many wonderful years in East-Central Oklahoma, he and Kay moved back to SW
Oklahoma to make a new home in the Jackson County community of Olustee, Oklahoma. This
has enabled them to renew old acquaintances, make new ones, and be near family.
Proceeding him in death were his parents, his grandson Lance Griffis, and his siblings Maurice
(Sister), Caddell (Rooster), Paul, and Nall.
Surviving siblings of this long-time Greer County Parsons family are Joyce Snow of Mangum, Ed
Parsons and wife Susan of Prescott Valley, Arizona, Kati Jackson of Austin, Texas and Lynda
Mihills of Cypress Mill, Texas.
Also surviving are his wife Kay of Olustee, his children Carrie Griffis of Mangum, Chris Parsons of
Wewoka, Trent Staton and wife Kimberly of Loomis, California, and Tara Coffman and husband
Randall of Victory.
Grandchildren are Anneliese (Bo) Stehr Rogers and husband Rodney of Willow, Cody Griffis and
wife Jamie of Blair, Callee Parsons Lewis and husband Dillon of Hogden, Oklahoma, Sierra
Staton and fiancé Jabin of Lincoln, California, Dakota Staton and fiancé Kayla of San Antonio,
Texas, Amanda Wilson and husband Kade of Duke, Oklahoma and Aubrey Coffman of Victory,
Oklahoma.
Great Grandchildren Luke Rogers, Beau Rogers, Zeke Rogers, Callie B Griffis, Laramie Griffis,
Cade Griffis, Gage Griffis, Merritt Griffis, Remi Griffis, Lilly Lewis, Lethan Lewis, and Kordell
Wilson.
Special forever family members are Kenneth Griffis and Sarah Dreyer.
Larry is also survived by a large extended family of in laws, outlaws, cousins, City View friends,
his six favorite # 1 nieces, lots of great-nephews and great-nieces, good neighbors, and many
precious friends in Southwest Oklahoma and Seminole County.
Family and close friends are planning future celebrations of Larry Parson's life from Oklahoma
to Texas to South Carolina to California.

Family services will be held at a later date.

Funeral services have been entrusted to Greer Funeral Home, Mangum, Oklahoma.

Read More
To send flowers in memory of Larry Eugene Parsons, visit the Tribute Store.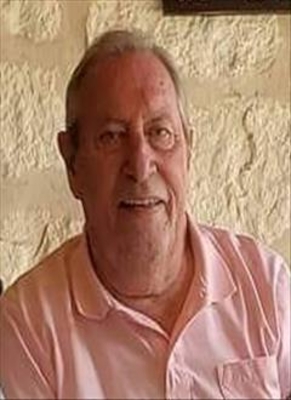 Thank you for sharing your
memory of Larry
Provide comfort for the family by sending flowers or planting a tree in memory of Larry Eugene Parsons.
No thanks, please don't show me this again.